Viafoureyez Crowned August Community Cup USA & Canada 2023 Champion!
UNO!™ Mobile Wildcard Series: Community Cup USA & Canada 2023 continues to heat up this summer. After some ultra competitive rounds of UNO! Mobile, we have unveiled our August champion viafoureyez from Kansas, USA!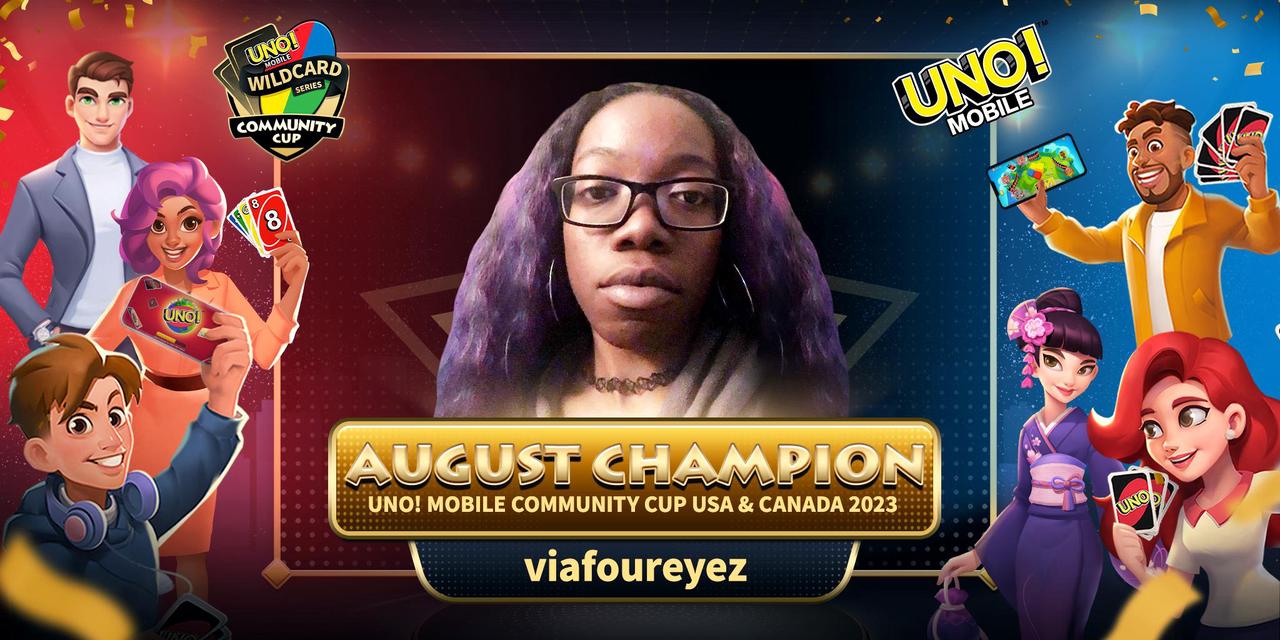 Viafoureyez is a long time player of UNO! Mobile, but this is her first time taking part in the Community Cup. With no previous experience in the tournament, she relied on the skills she has built over the years:
"I've played UNO! Mobile on and off throughout the years. I've been playing UNO! Mobile since I can remember; I wake up playing UNO and I go to bed playing UNO.
I usually play solo, but I'll play with my daughter in a few rounds. My favorite game mode is Time Balloon."
As a stay-at-home mom, viafoureyez has a range of hobbies like reading books, playing video games, and listening to music. In UNO! Mobile, her everyday life has taught her one thing:
"Keep calm and have fun!"
Like most UNO! Mobile esports players, strategy was key to viafoureyez's victory. This August tournament added Wild Punch, 0-7 Swap, and Open Draft to the game rules, taking the competition to another level, but she was prepared to pull through:
"I wouldn't say the new rules affected my strategy, I just had to adapt, but 0-7 Swap was the most challenging.
My top tip is to use your special cards when necessary and have some fun with it!"
In November, viafoureyez and 15 other finalists will compete in the Community Cup USA & Canada 2023 Grand Finale! In the meantime, she shares her thoughts on becoming the newest winner:
"I appreciate all the love and congratulatory messages — I had so much fun playing and meeting new people!
The monthly finals are fun and pretty intense! I was a ball of nerves during the matches, but me being crowned the winner was the most memorable part.
I'll continue to improve my skills and gameplay until the Grand Finale comes. I'm only confident that I'll have fun competing against the other players."
UNO! Mobile and Mattel163 would also like to say congratulations to Ryan from Ontario, Canada for coming in 2nd place and securing a spot in the Grand Finale. An extra special thank you goes to 3rd and 4th place players MQ1190 from New Jersey, USA and Jcnmemphis from Tennessee, USA for their incredible matches this month!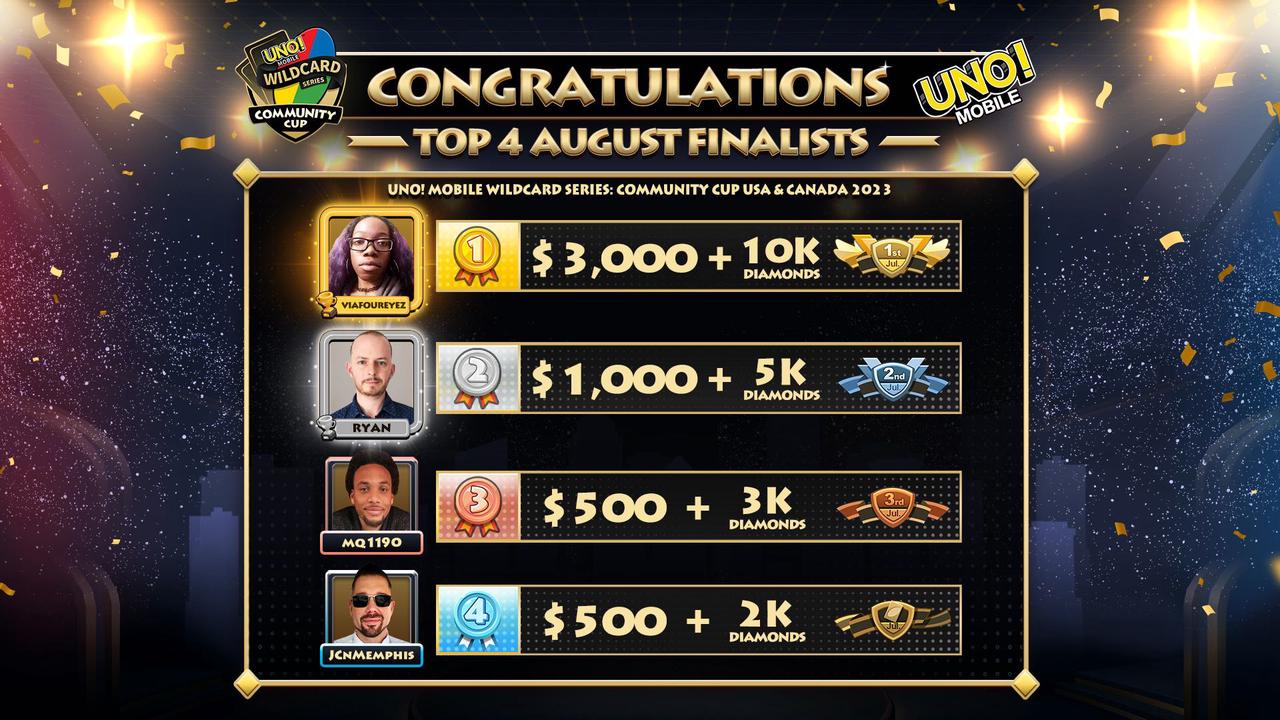 Want to see your name on the leaderboard next month? UNO! Mobile Wildcard Series: Community Cup USA & Canada 2023 will be back on September 1, so get ready for some wildly unpredictable fun!