Romeo Crowned October Community Cup USA & Canada 2023 Champion!
After a year of wildly unpredictable monthly matches, UNO!™ Mobile Wildcard Series: Community Cup USA & Canada 2023 has announced the final monthly winner! Romeo from New York, USA is the October monthly champion and the last monthly winner of the year!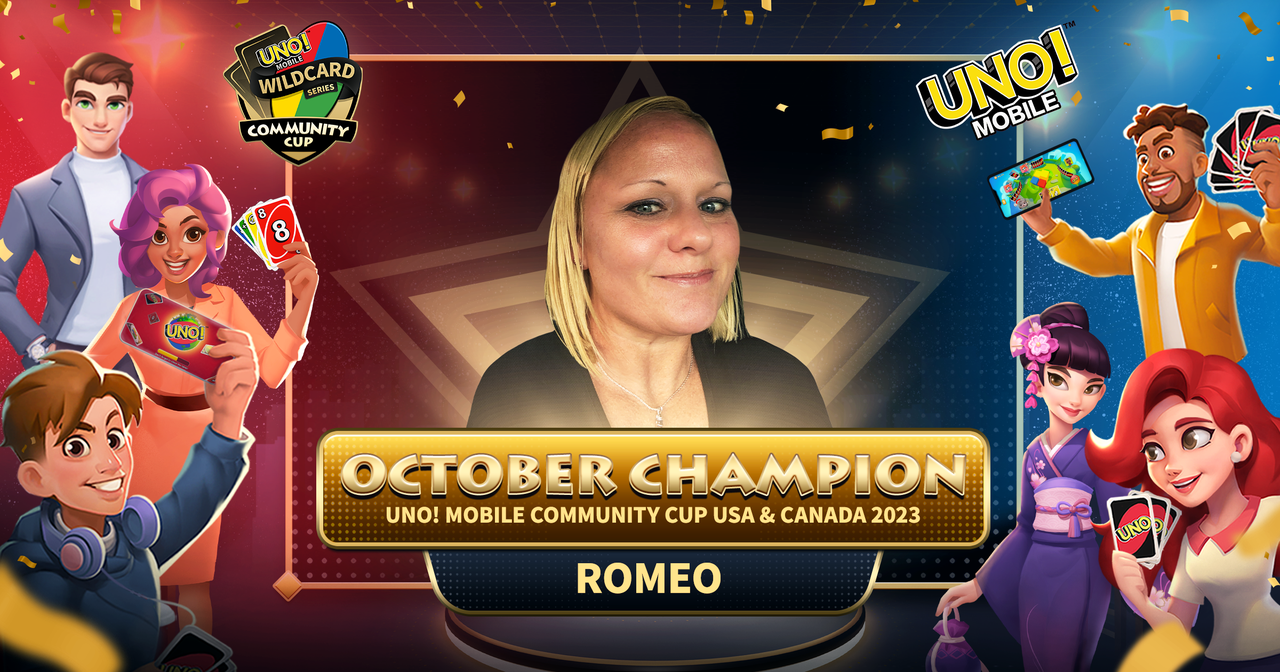 A passionate math teacher, Romeo has faced many challenges with her health but UNO! Mobile has been by her side every step of the way. UNO! Mobile has helped to show her that anything is possible if she puts her heart and soul into it:
"I still have falls but I have been walking one year without my KAFO full leg brace and assistive devices. First summer I have ridden my bike outside in 3 years. When I couldn't workout and teach maths, UNO! Mobile was the only game that could hold my interest when I couldn't even walk. The game isn't easy, it's hard! That's why it held my attention plus utilising my mathematical skills.
I've taught in the USA and England. If you asked one of my students their reply would be, 'THANK YOU UNO! MOBILE BECAUSE MS. NEEDS HER DOES OF MATHS DAILY!' I am who I am but it is the truth and laughing as I tell the world!"
Romeo is an avid UNO! Mobile player and so has plenty of tips and tricks to share and is willing to share her winning strategy:
"Watching others play, live competitions or spectating will most definitely increase your skill.
Tricky at times just try to hold on to a card that changes colour because that is what will save you from being slammed with loads of additional cards from this lovely COLOUR CHANGE WILD CARD.
I actually like playing 0-7 Swap, probably because it's the hardest. The strategy I use is to continue to pick up cards looking for a 7 and be careful with those 0's and remember to be aware of the Discard All."
As quick as it started, her matches were over and she emerged victorious! Romeo reflects on the most memorable part of the monthly tournament:
"The most memorable moments happened after playing and rewatching the competition. I couldn't even recall what happened in the interview, lol! I just focused and played my game just like we all did and such fierce competitors. For me, it came down to the Discard All Rule and one other I can't say because we still have another competition UNO! Mobile fam and lets see if it still works. Stay tuned."
During her UNO! Mobile journey, Romeo has made some great friends and connections within the global UNO! Mobile community, where they share advice and support each other.
"Listening to others in the UNO! Mobile Community as we do share our strategies and without them I wouldn't be the player I am today. It's amazing seeing your friends you've made through UNO! Mobile succeed.
I first want to shout out to UNO! Mobile Esports, our hosts going live and cheering us on with our UNO! Mobile fam and friends supporting us all.
MODS I admire the class and communication you all possess which makes all these live competitions possible. It wouldn't happen without all of you!
The UNO! Mobile Community really does have mutual respect for one another. Learning from each other only makes us better!"
Romeo will be joined by JaJa from Ontario, Canada in the November Annual Grand Finale. UNO! Mobile and Mattel163 would also like to say congratulations to 3rd and 4th place players FB: LaytonyaLove from Georgia, USA, and LaneBoy from Texas, USA, for their amazing matches!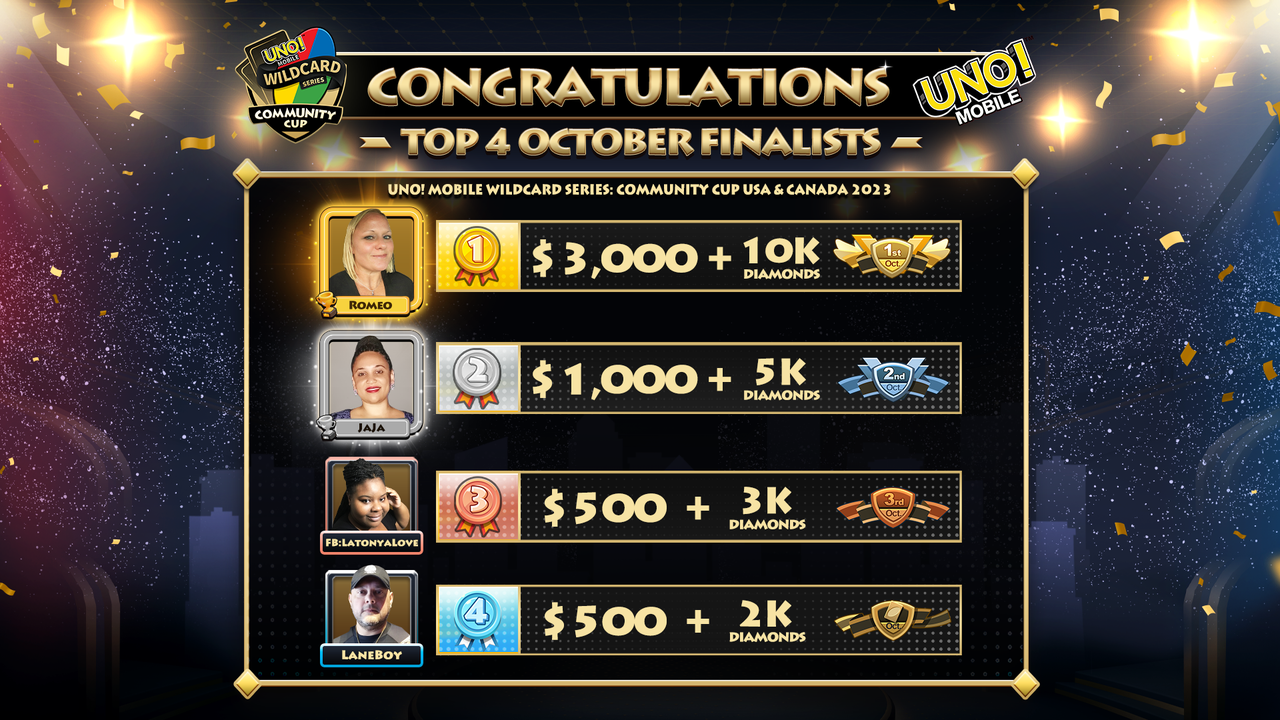 And it's a wrap! After a year chocked-full of tens of thousands of matches, UNO! Mobile and Mattel163 are excited to reveal more details about the epic Annual Grand Finale in November! Let's look forward to more wildly unpredictable fun!