Join the Wildcard Series Duos Invitational: A massive $4,444 2v2 Showdown!
The first-ever UNO!™ Mobile Wildcard Series: Duos Invitational is here! Grab a friend and compete together for a winners-take-all grand prize of $4,444! That's $2,222 per player on the winning team!
Who Can Join
The Wildcard Series Duos Invitational is open to more countries than ever before! Players from the USA, Canada, Australia, France, Germany, and Spain can all apply in pairs to be part of this event.
The Duos Invitational is a 2v2 format event, so both you and a friend must make your own applications to join. Applications without a matching application from their teammate are not eligible!
You and your teammate are eligible to apply if you are both 18 years or older, have UNO! Mobile accounts that are greater than or equal to level 3, and are from one of the six countries.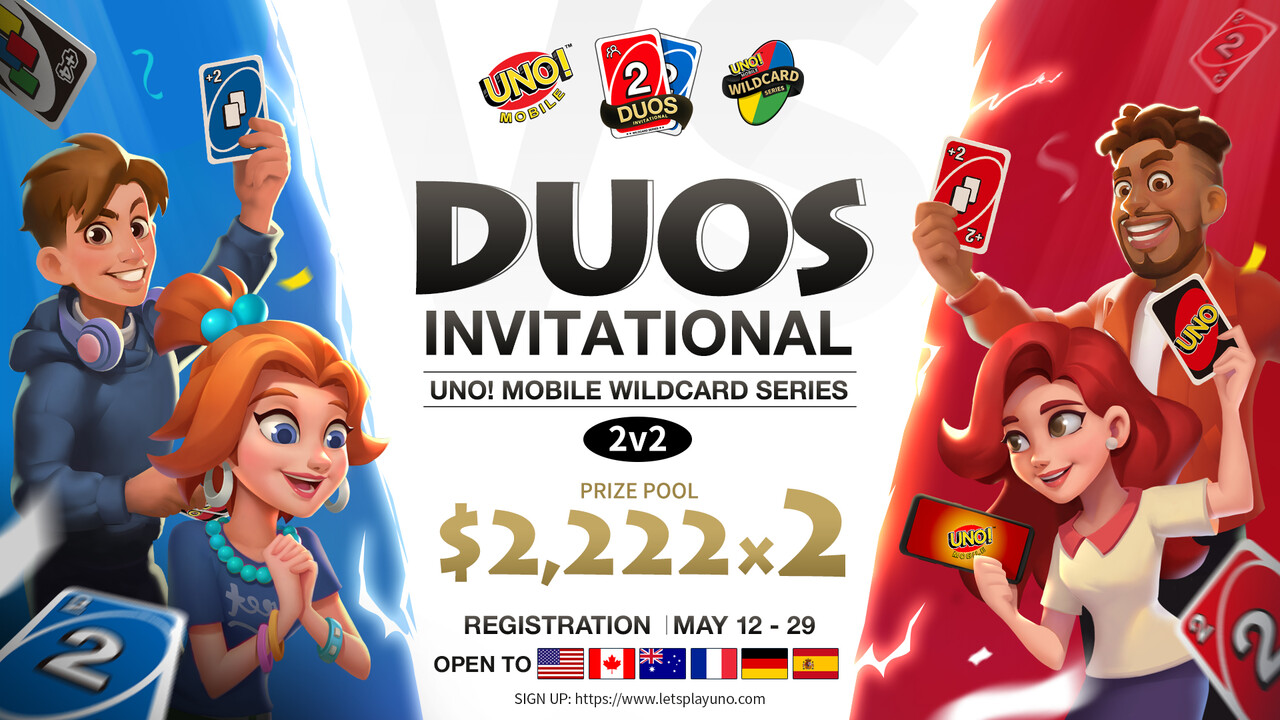 How to Apply
Applications are open from May 12th, 0:00 am UTC through May 29th, 23:59 pm UTC.
To apply, each teammate must fill out a unique application. The first team member will make the primary application. Interested Duos will be asked to provide their basic information, team name, answer a few interview questions, and make photo and video submissions. The primary application should only be filled out by ONE team member.
After the first application is submitted, the other team member will also need to fill out the secondary application linked to the primary one. This secondary application is shorter and just requires that person to fill in some basic information in order to be eligible.
If both primary and secondary applications are not received for your team, your application will be deemed ineligible.
How to Get Selected
Your team's applications will be scored based on the number of trophies you or your teammate has in UNO! Mobile (whoever has more), your interview answers, and how well photo and video submission guidelines were followed!
The top 8 eligible teams with the highest scores will be selected to compete on June 17th at 12pm PT live on the UNO! Mobile official channels. Remember, the winning team will take home $4,444; that's $2,222 per player!
*Selection shall be conducted by event administrators subject to the criteria and procedures laid out in the Event Rules.