May Community Cup USA & Canada 2023 Champion Revealed! Welcome, MQ1190!
UNO! Mobile is delighted to announce that MQ1190 from New Jersey, USA has been crowned the May champion of the UNO!™ Mobile Wildcard Series: Community Cup USA & Canada 2023!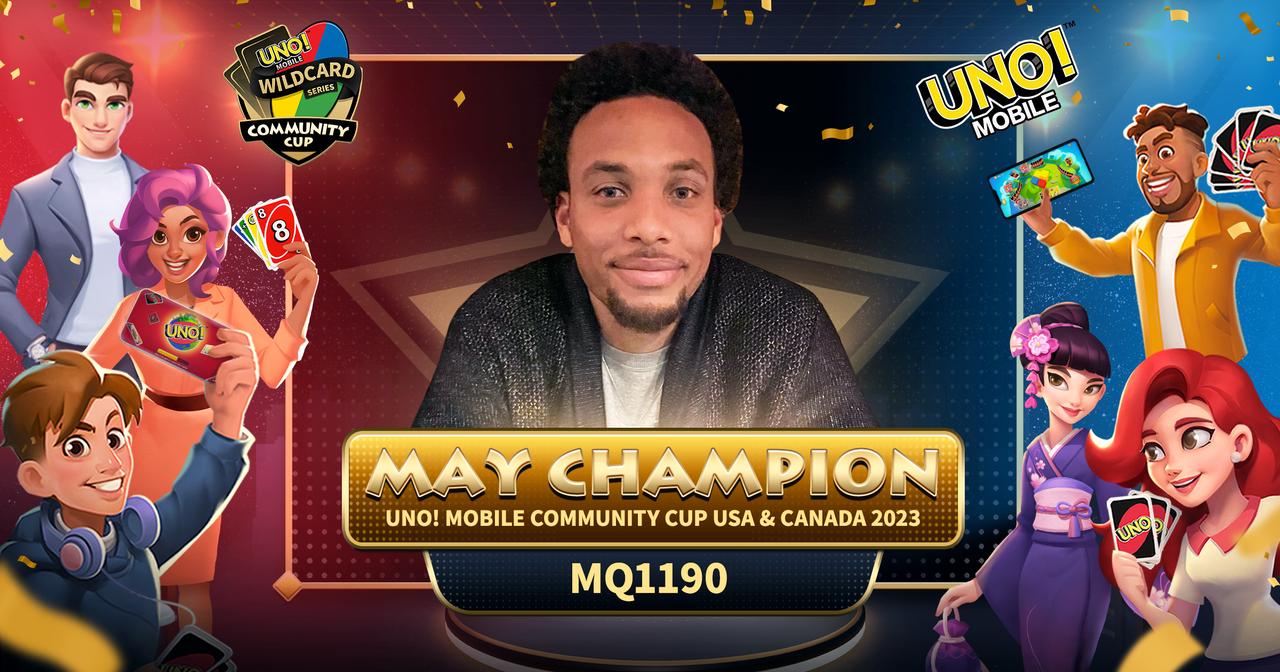 MQ1190 has been playing UNO! Mobile for 3 years. Aside from enjoying the outdoors and hanging out with friends, he loves to play UNO! Mobile as a way to relax, wind down and hone his competitive spirit:
"It started off as a way to have fun during my downtime at work and home against friends. I love to compete.
I love being outdoors. Going on runs. Playing basketball with my friends on weekend mornings. I love to compete with everything."
As a naturally competitive person, MQ1190 has been watching the past Community Cup streams and finally he decided to join the tournament this month:
"The past Community Cup streams were very entertaining and inspired me to want to compete in this month's competition.
I love the entire process of the monthly finals. I appreciate the journey and the grind it takes just to be able to compete on that stage. Honestly I was nervous at 1st because I knew I was competing against the best of the best. I understood what my fellow competitors had to go through to make it to that point. Overall, excellent experience."
As a novice player of UNO! Mobile esports, MQ1190 shared his experience and thoughts on May's qualification rounds:
"The most challenging part was qualifying to be the top 1000. You only have 2 games a day to acquire a great score. There were many days that I didn't make it so it was exciting just to be able to advance to the next round."
During the finals, MQ1190 may have won with seconds to spare, but his keen eye for the cards and knowledge of past matches helped him rise to the top!
"My tips would be to really try to pay attention to what the other players are doing during the entire game. Understanding what color cards a person doesn't have can be the difference at the end.
I guess for me, if I could I would like to hold onto the 'Draw Fours' but if someone forces you to play it you have to. I know from watching past events that paying attention and reading the board can give you clues."
This month's matches were some of the toughest and most unpredictable we have seen yet and we knew MQ1190 was up for the challenge:
"The most memorable besides the final match was the first win I got in the opening group. This gave me the confidence and belief that I could potentially come out on top. It was a pretty cool experience being interviewed at the end. I went from watching them on YouTube during previous finals to being able to have a conversation with them. Great hosts."
In November, MQ1190 will be joined by runner-up Joselyn from Arkansas, USA for the annual Grand Finals. He will make sure he is fully prepared for the next challenge:
"I will make sure to watch the previous monthly competitions and the upcoming competitions to try to get an understanding of my fellow competitors' playing styles. I'm confident that anything can happen during the actual matches. You have to be in it to win it. I just appreciate being able to be on the stage with great UNO! Mobile players. I respect what they had to go through to make it that far."
Before then however, the May champion has some words of thanks as he reflects on this months matches:
"I love the entire process and appreciated the different steps I had to go through just to make it to the next level. I have played many fun nail biting games. This is a great addition to the UNO! Mobile app.
I would like to thank the fans that gave me encouragement and support. I really appreciate it. I appreciate my family and friends that were cheering me on during the competition. It was a great experience for us all."
UNO! Mobile and Mattel163 would also like to give a huge thank you to Dora from Ottawa and Quaraciama from Ontario, Canada for their incredible matches this month!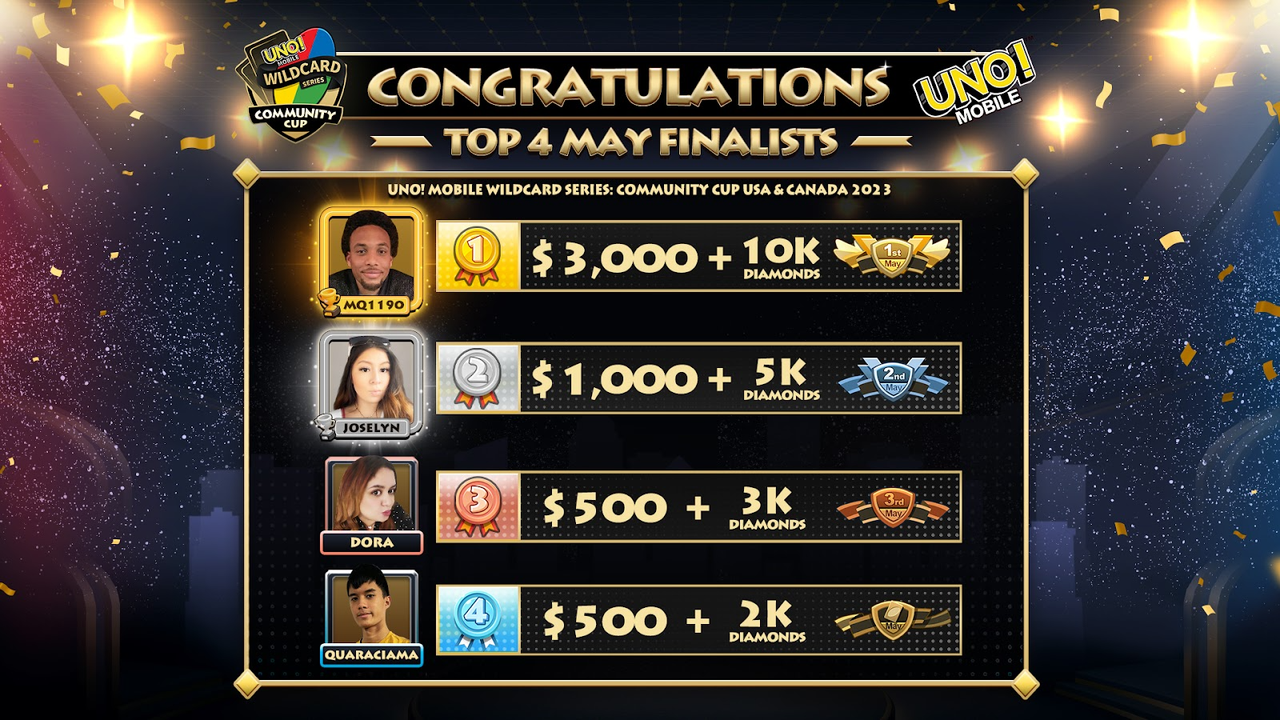 UNO! Mobile Wildcard Series: Community Cup USA & Canada 2023 will be returning in July 2023 for more exciting matches, so be sure to keep an eye out for the next round of qualifications!