UNO!™ Mobile Reveals Full Team Line-Up for Upcoming UNO! Mobile Wildcard Series: Duos Invitational
The first-ever UNO! Mobile Wildcard Series: Duos Invitational has announced its final team selections. The Grand Finals will take place June 17, when eight Duos teams will go head to head in UNO! Mobile's exclusive 2v2 format. The Duos Champion will receive a cash prize of $4,444 total for the team ($2,222 for each teammate!).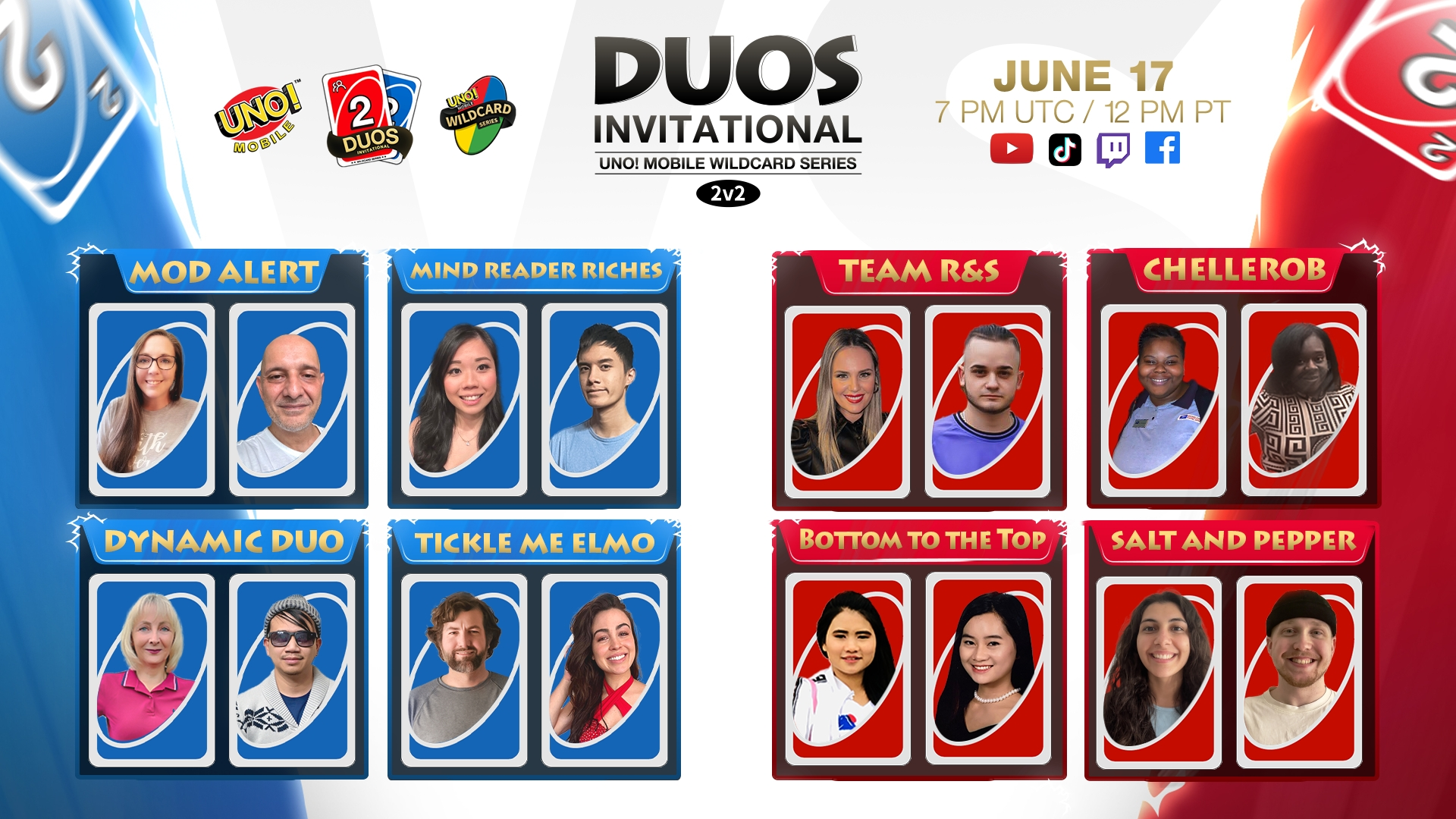 Thousands of teams from the USA, Canada, Australia, France, Germany, and Spain signed up for the tournament, but only eight Duos stand out based on their UNO! Mobile's trophy numbers and their team's strategy! The competition is sure to heat up with this exciting roster, who will battle it out for cash and grab the topmost team honor among the six countries. The full Duos Invitational line-up can be found below:
Mod Alert
Neil from Australia and W00d from the US are representing the UNO! Mobile community moderators. They've been playing UNO! Mobile since it was first released and both regularly enjoy different game modes. Their strategy involves memorizing discarded card colors and waiting for the right moment to strike with the wild cards. Their team-up dedicates a deep love of UNO! Mobile's community with friends near and far!​
Dynamic Duo
Kris from the US, who is the reigning Community Cup Debut champion, is joined by Dschini from Germany. These long-time friends met through UNO! Mobile's online community. Dynamic Duo has played nearly 6,000 games together and has accomplished many in-game achievements! Their competitive edge is long-term teamwork and a perfect balance of risk and caution when playing UNO matches. ​
Mind Reader Riches
Quaraciama and Diva from Canada became friends through the UNO! Mobile's Go Wild mode, helping each other to win. Their team name represents their mind-reading strategy as they try to predict their opponent's next moves. Quaraciama has become one of the top players of the Community Cup USA & Canada 2023 tournament, appearing in many top monthly finals! Quaraciama and Diva have prepared for the Duos Invitational by playing UNO! Mobile's Go Wild and Open Draft in 2v2 format!​
Tickle Me Elmos
Jonny Boy and Carmen from the US met through the official UNO! Mobile Facebook channel and were inspired by their favorite Sesame Street character Elmo to come up with their team name. This duo plans to be the wild cards of this tournament by confusing their opponents and keeping their true strategy top secret!​
Team R&S
Rodrii and SaRuKy from Spain, a content creator, and a teacher, met through the UNO! Mobile Discord community. Their team name comes because they have the same surname and combine their first names! Previously, Team R&S played casual matches but with hours of training, they're now raring to take things to a competitive level!​
Bottom to the Top
Khee_Yarina and HaiLeePaw from the US have played UNO! Mobile together for three years. They have been best friends since they met in school years ago. This team will use their knowledge of each other's strategy combined with the power of friendship to help them reach the top!​
Chellerob
FB:LatonyaLove and Girlmom25 from the US, combined Michelle and Robin to create their team name Chellerob! These two best friends (and cousins!) have been playing UNO! Mobile together for nearly two years. Their strategy is to play side-by-side physically during the live finals, which they hope will help them communicate and ultimately, win!​
Salt and Pepper
Salt and Pepper are a couple from Germany who found each other online. As they did not have many chances to meet face-to-face earlier in their relationship, UNO! Mobile has been the bridge that connected these two for over one year! Salt and Pepper play UNO matches every night and they are passionate about winning the Duos Invitational!
The chosen Duos will battle for victory in UNO! Mobile's exclusive 2v2 format. This format lets every duo partner up, see each other's cards, and strategize to win! The UNO! Mobile Wildcard Series: Duos Invitational will be held on June 17 at 19:00 UTC/12:00 PT and live-streamed in UNO! Mobile as well as across all UNO! Mobile's official social channels.