UNO!™ Mobile's First Ever Duos Invitational Crowns Go to TEAM DYNAMIC DUO!
UNO! Mobile is excited to announce Team Dynamic Duo as the UNO! Mobile Wildcard Series: Duos Invitational grand prize winners! The international dream team Kris and Dschini, from the USA and Germany, made it out on top and will receive $4,444.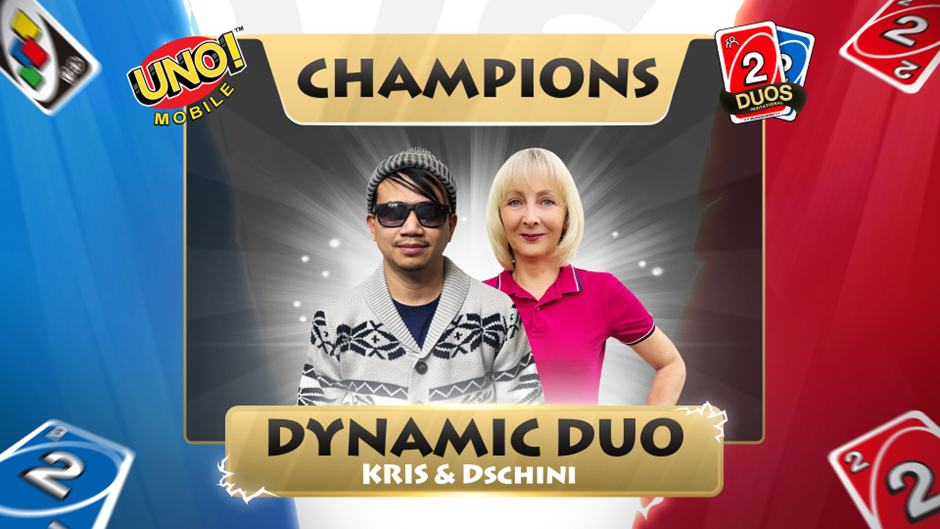 Kris and Dschini have been playing as UNO! Mobile partners for 2 years and have played almost 6,000 games together in total! Up against seven other incredible teams, 2v2 strategy was key to bringing their team to victory. Although Dschini notes the strength of their opponents, Kris reveals their key strategy:
"We leveraged the countless hours and thousands of games we played together. We try to help each other play their cards and set up each other for the win. We tried to stick to our strategy the whole tournament. We tried to hold on to our Draw 4 and Wild Cards towards the end."
Actually, this isn't Kris' first time competing in UNO! Mobile esports, having already taken home the crown for UNO! Mobile Community Cup Debut in December 2022. Kris now holds the titles for two inaugural tournaments, and feels honored by this privilege. His love of the game and the UNO! Mobile community keep motivating him to compete in.
He states "I am incredibly grateful to UNO! Mobile for giving me the platform to showcase my skills and love of the game." For Kris, his love of the game and the UNO! Mobile community is what motivates him to keep competing.
Team Dynamic Duo took on the challenge UNO! Mobile's thrilling 2v2 format, which allowed them to see each other's cards and to strategize to win. Dschini said, "It was important for us to ensure that 1 partner can discard all cards. We are a team. We complement each other perfectly. Kris is a little cautious. I'm taking a risk. We fit together perfectly." Actually, Dschini is a big fan of playing with friends, and actually prefers it over playing solo!
Kris highlights the advantages of the 2v2 format that helped them take the victory:
"You can team up with your best partner and benefit on the chemistry that you already have. I would like to say thanks and job well done to my duo partner, Dschini. She remained calm, composed and brilliant during the entire tournament. I had no doubt that she would perform well and lived up to my expectations."
UNO! Mobile continues to foster amazing relationships within its diverse community and Dynamic Duo is just one of many incredible friendships formed. With over 1000 hours of team-play under their belt, Dschini says, "I've made an incredible number of friends from all over the world through UNO! Mobile. I am in close contact with some of them via mobile phone and long-term friendships have been formed. I am grateful that I was able to meet Kris through UNO! Mobile. We've been best friends for almost 3 years now. We understand each other without words. We harmonize incredibly well."
The Duos Invitational saw twists and turns in every round but there was one moment in the Grand Final that stood out from the rest. Kris notes how everything came down to the final round between Dynamic Duo and Tickle Me Elmos: "It's a winner take all with no room for mistakes. Our composure and patience enabled us to hang on the win up to the last second of the 3-minute game. It was excruciating but rewarding in the end."
Team Dynamic Duo has no plans of putting down the UNO! deck any time soon. Their win has given them the motivation to keep competing. While Dschini plans to compete as a duo in future, Kris is raring to compete again as a solo and duo competitor!
In the meantime, Kris and Dschini offer thanks to their friends, family, and the UNO! Mobile Community for their support. "I'm thankful to all my UNO friends. I would like to thank my club members for the great support and I am very happy that my daughter and son were able to watch it on YouTube. Thanks also to the moderators. You have been a great help," says Dschini. Kris also offers his thanks to their community, adding, "They have not once doubted that we will be victorious in the end. We share this achievement with all of them."
UNO! Mobile and Mattel163 would also like to thank the other seven amazing teams for taking part in this unpredictable tournament including the runners up: Team Tickle Me Elmos and Bottom to the Top. It's been incredible seeing such a diverse line-up of players!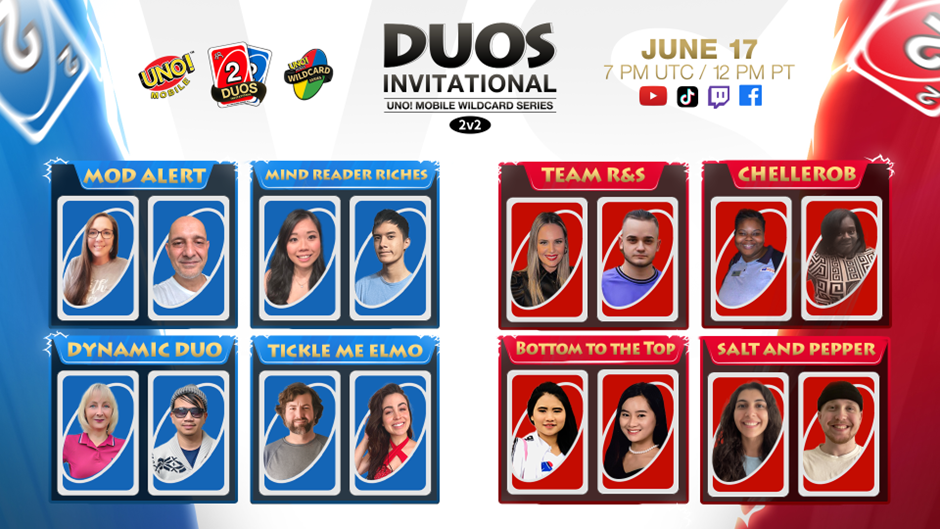 The fun doesn't stop this Summer as the Community Cup USA & Canada 2023 will be returning next month! Be sure to keep out for more information by connecting with UNO! Mobile on Facebook, YouTube, and Discord.