Community Cup USA & Canada 2023 Returns with July Champion Revealed! Congratulations Isabella!
After a 1 month break, the UNO!™ Mobile Wildcard Series: Community Cup USA & Canada 2023 is back for more rounds of unpredictable fun for the second half of the year. We are pleased to share that Isabella from Mississauga, Canada has been crowned the July champion!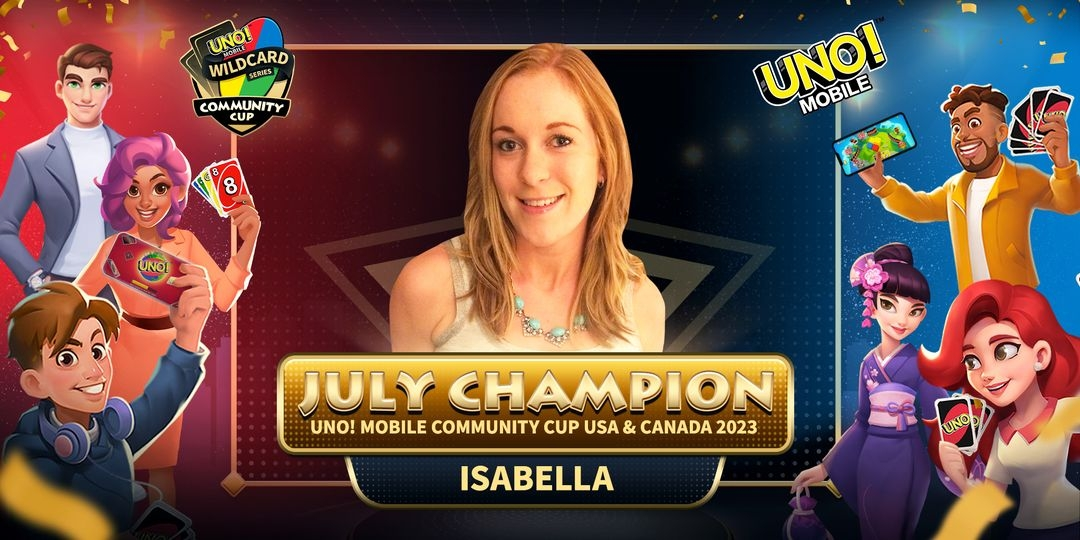 July champion Isabella stumbled upon UNO! Mobile two years ago and started playing out of curiosity. Now even with a busy schedule she still plays UNO! Mobile every day and has convinced her husband to join her in playing:
"I am a manager at a dental office. Typically the day is spent getting the kids ready for school, going off to work and back home to make dinner. I enjoy sitting on the patio with my husband in front of the fire drinking a cup of wine. If there is any time during the day, I'll grab my iPad and play a few rounds of UNO! Mobile.
It's just fun to unwind and use your mind at the same time.
Typically I play by myself but my kids over the years have joined me here and there. My husband also seems to have gotten addicted to it ever since seeing how far I have progressed."
As a keen player, Isabella almost made it into the March finals. Despite this, she used her past experience competing to improve her strategy and enjoy the matches' exciting twists and turns:
"The experience has been really fun. It's honestly something I really looked forward to. I was fortunate to make it to the finals in March but got bumped out of the first round so I had the opportunity to know sort of what was going to happen. I think when you are in it for the first time you get a bit nervous knowing that people are watching. Fortunately for me I did not think about that too much this time.
My winning tips and tricks are: remember your opponents colors, keep the wilds until the end if you can, sometimes bluff and try to keep calm or else the pressure gets to you."
Not one to give up, she preserved and used her knowledge of the game to make it to the July matches! Isabella reflected on all her emotions going into the winning matches this month, but ultimately she shook off the nerves and welcomed the challenge:
"I really enjoyed participating in the monthly finals. When I was in the matches I felt a little bit of pressure of course and I could tell my opponents were extremely good playing UNO! Mobile. It's fun to challenge yourself and this was certainly a challenge."
In the end, her past experience, combined with a stellar strategy, kept Isabella on top and she emerged victorious! She wanted to share a few words of thanks to her family, friends and the UNO! Mobile community:
"Thanks everyone for watching and supporting me, and cheering all the finalists on. Hopefully the gameplay was fun to watch! I was very appreciative of all the help I received on discord during the competition. To be honest I usually just play for fun but I can see how beneficial the community would be for improving your game and making additional friends."
But Isabella's story does not end here! In November, she and 15 other finalists will compete in the Grand Finale to battle for the title of UNO! Mobile Wildcard Series: Community Cup USA & Canada 2023 Champion! Isabella will have several months to prepare for the biggest UNO! Mobile competitive match of the year:
"After going through the July matches and seeing the gameplay, I will likely watch some past events to see if I can learn some new strategies. Just like how professionals watch their opponents, I'll likely do the same.
Aside from that I'll simply play and enjoy the game as normal. You must be playing regularly, I think to keep that muscle memory going.
If I win that's amazing and if I lose… then I learnt something. I think if you take it too seriously your head is not truly in the game for why we all do this, the fun of it."
UNO! Mobile and Mattel163 would also like to give a huge thank you to 2nd place player Alexis H from North Carolina, USA, 3rd and 4th place players 1473JM from Florida, USA and The Best from Minnesota, USA for their incredible matches this month!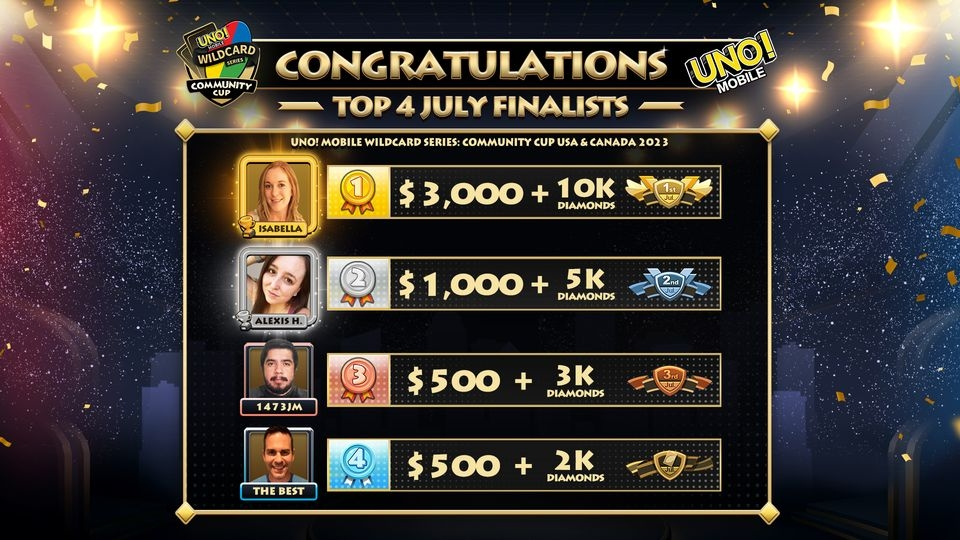 Want to see your name on the Top 4 August Finalists? UNO! Mobile Wildcard Series: Community Cup USA & Canada 2023 will be back in August for more, so be sure to keep an eye out for more details!