Destiny is the March Community Cup USA & Canada 2023 Champion!
UNO! Mobile is pleased to introduce DestinyAdame as the champion of the UNO! Mobile Wildcard Series: Community Cup USA & Canada 2023 March tournament.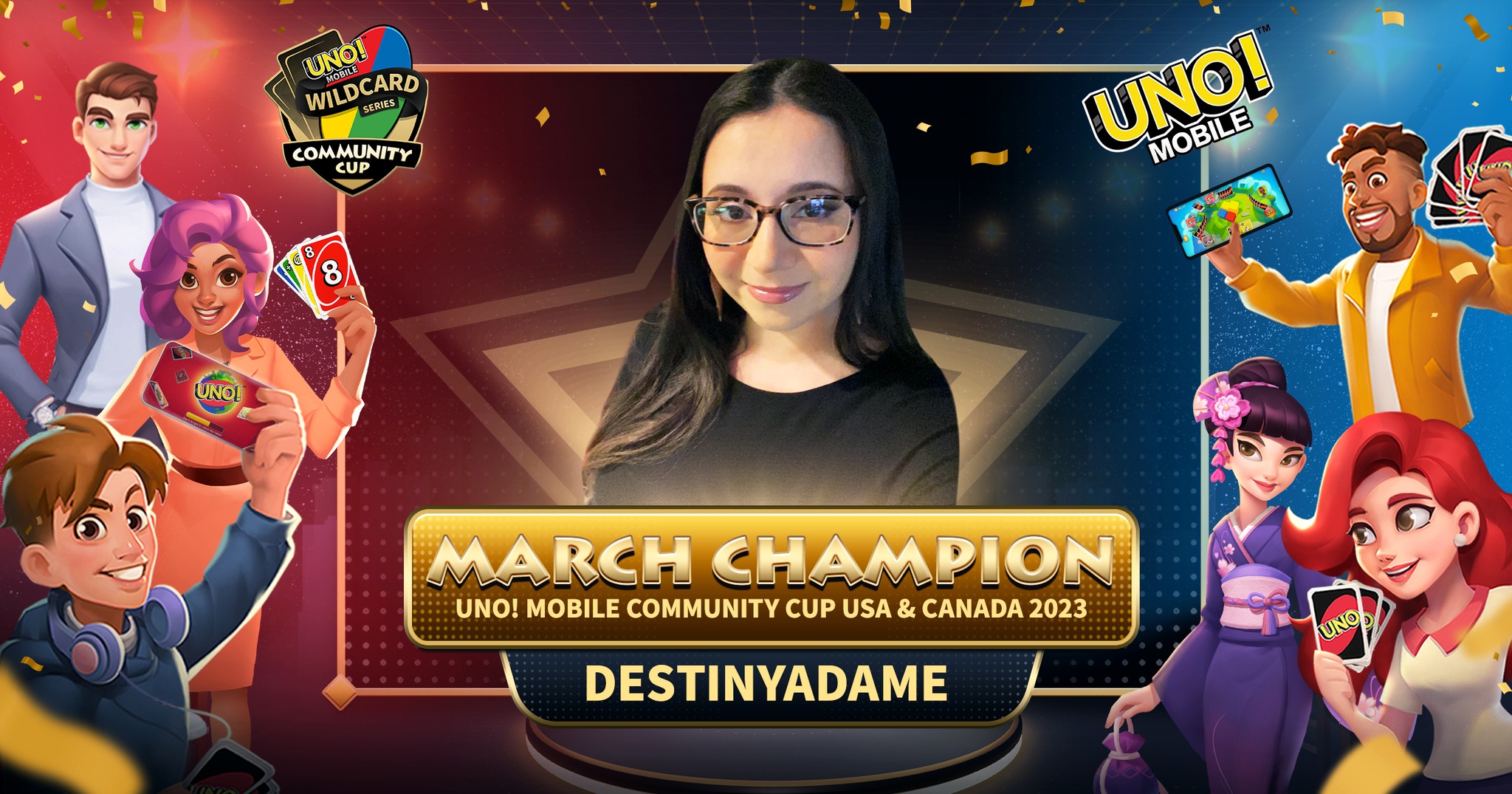 During the March finals, Destiny played like a seasoned pro, coming out on top in a victorious win. However, she only started playing UNO! Mobile just a little over one year ago.
As a busy mom of three, Destiny thanked her children for introducing her to the game. She started with the physical card game and then fell in love with UNO! Mobile:
"Last year, my kids got the UNO card game and asked me if I wanted to play. The funny thing is, I had never played the game before. They taught me the rules and from there I fell in love with the game.
I then started getting really good at the card game against friends and family, so I went looking for an app where I could play more often. That is when I found the UNO! Mobile app. When I started playing UNO! Mobile, I remember thinking 'no way, I can play this against real people?' and from then on I was hooked!"
Since then, taking part in real-time matches in UNO! Mobile has become a daily hobby for her. Destiny tells us the mobile game is the best way for her to wind down after a busy day:
"Once my three kids are asleep I usually wind down and relax for the night. It's my 'ME' time!"
When discussing her experience in joining UNO! Mobile esports, Destiny described it as a once in lifetime opportunity:
"I went in there to have fun and to be honest, I was so nervous I almost pulled out but I am so glad I didn't. The experience feels like a once in a lifetime opportunity! I joined just to see what it was and from there I was able to compete. I never would have imagined that UNO! Mobile would have an esports tournament that I would be able to be a part of.
There are so many great players I play against and part of it comes down to luck. I do my best to keep my cool, not let anything get to my head and just be thankful for even getting the chance to try to win the big prize! It's definitely a game I will play for the rest of my life."
Over the March tournament, Destiny's confidence and status within the game has continued to grow. She rose through the ranks of UNO! Mobile, from a daily player, to a qualifier, to the March champion. The final moments of the final match made her an unforgettable player:
"At first I thought the most memorable moment would be making it through the qualifiers and into the final March match. But now that it's over, the most memorable part would be playing my last card which was a Wild Plus 4 and knowing that I came in first place! It's a feeling I will never forget!"
Although this was the first time Destiny to competed in a national esports match, she stopped her nerves getting the best of her and pulled out her winning strategy:
"When I play, I try to remember when my opponents get rid of certain colours. I sit there repeating the colours out loud. That way, if I have a Wild Card, I can use it and make them draw more cards. The match was not easy however! At one point, I was drawing 12 cards at a time. I kept thinking 'there is no way I am going to come back from this!'. I was so nervous and I just kept telling myself I've come this far and that's all that matters. Just play for fun and if you get knocked out then still be proud of yourself!"
Destiny will have until November to prepare for the Grand Finale tournament. In the meantime, she has many people to thank. UNO! Mobile's community and her beloved family have her back!
"My biggest thank you would be to UNO! Mobile and Mattel163 for giving me this chance. I have gone back and read the comments on Facebook, Discord, YouTube and everyone that was rooting for me. I thank you all from the bottom of my heart. The way I played is how I play my normal matches and I'm glad people loved what they saw.
A huge thank you to Grandmaster Gojj for believing in me even when I kept getting dealt stacks of cards. And most importantly my husband, two daughters and son who have been here the whole time watching the tournament and cheering me on! They see me playing UNO! Mobile every single day and know how much I love this game."
Destiny's story with UNO! Mobile has just begun - she and runner-up Kobi from Michigan will join February's champion, Laura and runner up Joey in the Yearly Grand Finale in November.
UNO! Mobile and Mattel163 would also like to thank Heismi from Michigan and Quaraciama from Ontario for their incredible matches this March!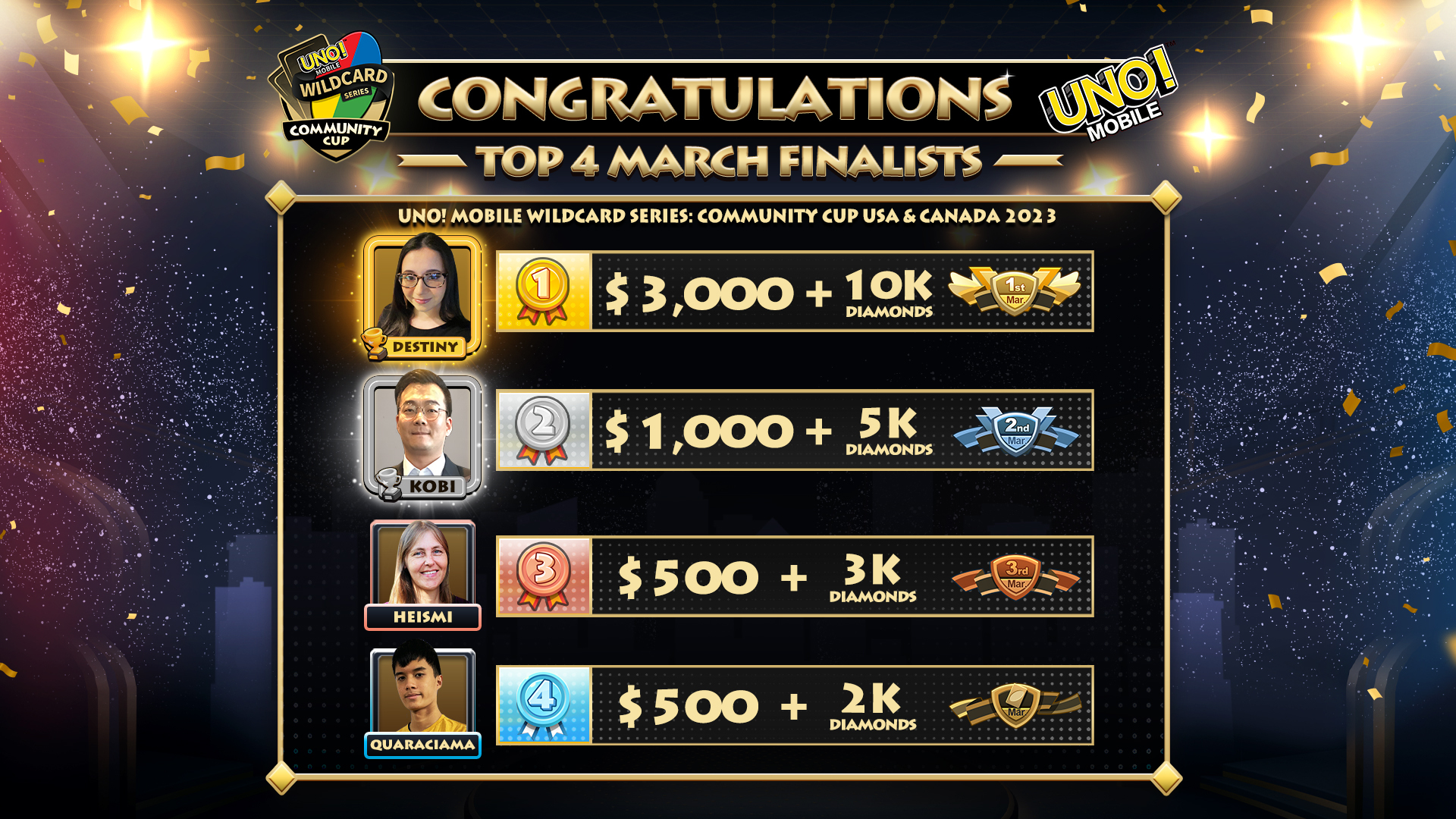 Can't wait for more unpredictable fun? Join us on April 1st for the next round of qualifications. Can you step up the challenge and become the next monthly champion?